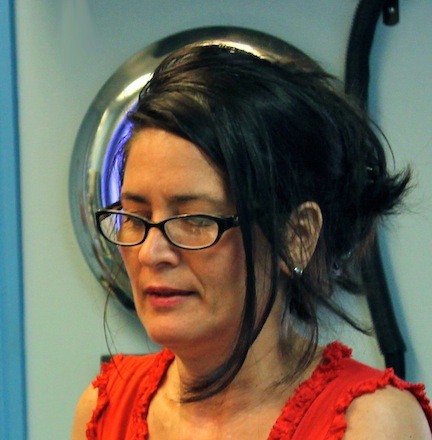 Excerpts from The Bead Release Magazine's Artist Spotlight
by Marcy Lamberson
Maureen Buckley McRorie, co-owner of FlameTree Glass enjoys telling stories with her glass sculptural caricatures. "I like to hide little details so that the viewer can always see something new," she explains. Oftentimes, her work could be described as whimsical and it reflects Pacific and Asian influences or aquatic themes. Maureen works exclusively in soft glass and most of the time it's Moretti or Vetrofond because her store sells both brands.
It's easy to see her influences and inspiration directly in her work. Maureen mentioned her best ideas come from dreams. Her Ocean Vessel in Beads of Glass (book - page 10) came straight from a morning dream. She's also been watching The Blue Planet DVD, which feeds her fascination of exotic deep ocean creatures. When she was a young girl, she loved to watch Jacques Cousteau. With so many tools available from her store, Maureen's list of favorites is relatively small and starts with her torch. "I use a GTT Phantom, and I love it," she enthused. Hand tools that are most important include her Mikey marver, an Exacto blade, foil tweezers and leaf mashers
Her Roswell, Georgia studio is dream location for lampworkers and glass artists. There's a state of the art ventilation system, including a wonderful air conditioner for those hot summer days. Torches as well as a dream collection of tools and glass fill up the spacious teaching studio. FlameTree Glass owned by Maureen and her husband Lance McRorie has a comfortable storefront retail and relaxing area, which showcases not only Maureen and Lance's pieces, but also glass by skilled friends and visiting artists with international reputations.
The back of the store is a dedicated workshop and classroom, and this is where you'll find Maureen when she can steal a few minutes away from the business of running a business. Spending time back here with her torch, her imagination, and piles of leftover glass, twisties, stringers, and frit is what she loves doing best. She usually does not look at pictures when she lampworks. Most of her ideas come from her imagination. "I love that I can form images in my mind and create them out of glass," she says. "Sometimes I have ideas bug me for months until I manifest them into solid glass form. The koi pond idea rolled around in my head for at least a year until I figured out how to create it." Maureen began in glass pretty much the way many lampworkers got started. She and her husband Lance took their first bead making class at Beads by Design in Marietta, Georgia. They bought a single Hothead torch and fought over who got to use it. Shortly afterwards, she took a Loren Stump class. "I felt totally lost, but by being challenged, I really learned a lot." They moved to Orlando, Florida and opened the business after 911. Maureen and Lance moved FlameTree Glass back to Atlanta in 2006 and are pleased with both the location and the climate. Currently, Maureen is working on a murinni-lampworked-fused dress for a sculpture she is thinking about. Although Maureen is proficient in many styles of beads, her sculptures really capture the interest of the viewer and pull them in to see all the tiny complex details. She sculpts faces with different expressions because they're technically challenging and "an integral part of telling a story", she noted. "Lately, I've been combining many small elements to create encased seaweed, crazy twisty hair, and leafy trees. Maureen sells her beads and glass compositions through FlameTree Glass, Inc or www.flametreeglass.com and to private collectors.